Colin Mansfield – Lifetime of Service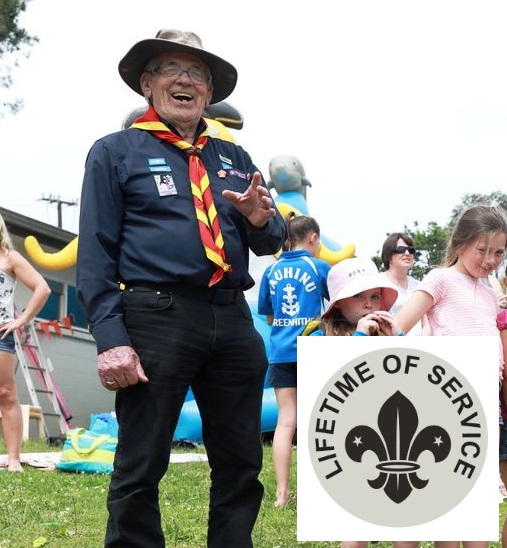 Congratulations to our very own Kahu on being presented with a Lifetime of Service award at last Saturday's Zone Awards Dinner. Colin's distinguished service through his commitment and dedication is a testament to a lifetime of service given to scouting.
Colin started his scouting journey in 1946 at St Barnabas Scout group in Mt Eden at the age of 8. Progressing through the sections he went on to achieve the Queen's Scout Award in venturers. He then started his own journey of service in scouting by becoming a Cub Leader at that very same group.
After marrying his wife Anita, who was also a cub leader at the St Albans Scout group, her younger brother Tom asked Colin to come and help out as a Scout Leader around 1958. Even after moving to Henderson Colin continued to commute to be a leader at St Albans for a large number of years.
Eventually he was asked to become a leader at Te Araroa Henderson with own family now joining him; son Gregor joined as a cub in 1971. Colin remained there as a leader there for over a decade or more.
After a break Colin then joined Tauhinu, now with his own grandchildren passing through the cub and scout sections that he helped to run. His full time involvement went right from 2003 up to 2016, where due to health issues, he took a less adventurous role but still remains as a leader, mentor and advisor to our Group Council and Committee to this day.
Tauhinu and your other scout group's have been and still are so lucky to have you as their leader. Members past, present and future would like to say thankyou for your phenomenal scouting service and the positive impact it has on us all.